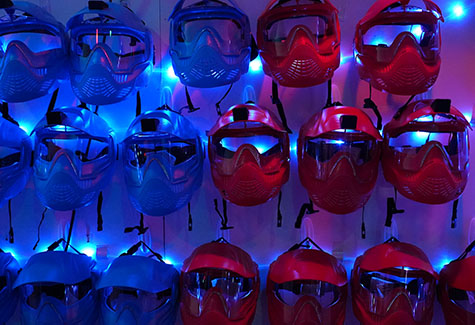 If Asheville is known for anything, it's its fantastic outdoor areas surrounding the city. We are in the shadow of the highest mountains in the South. There are over half of a million acres of protected woodlands that are crisscrossed by fast-flowing rivers and creeks. We have the highest concentration of waterfalls on the East Coast, and the area is a hub for fly fishing, hiking, mountain biking, and other outdoor sports.
For those searching for an atypical bachelor party location that has a mix of adventure and culture, you're not going to beat the Asheville area. Here is how you can make the most of a bachelor day or weekend in and around Asheville and western North Carolina.
Hosting a Great Bachelor Party Near Asheville, NC
1) Mountain Biking
Some of the greatest mountain biking in the country can be found in western North Carolina. Our trails are regarded as must-ride destinations east of the Mississippi. The ideal combination of excitement and fun for your bachelor party is shredding on two wheels.
Kitsuma, Star Gap, Heartbreak Ridge, and the Gateway Trails are a few of the trails in our community. If you're traveling from the east, your first stop should be Old Fort and Black Mountain. Kitsuma, Heartbreak Ridge, and Star Gap are three of the most well-known and iconic Pisah singletrack trails. The Gateway trails are brand new flow trails just a few miles outside of Old Fort.
If you just ride parks or you just like large jumps and quick descents, Kanuga, Kolo, and The Riveter are terrific bike parks to shred with your groomsmen.
The Moab of the East Coast is Dupont State Forest, which has large boulders, flowing downhills, and something for all levels of riders.
Bent Creek, Brevard, and Pisgah Forest are some classic Pisgah trails just south of Asheville. You can expect to find wild descents that are technical and rowdy. Be prepared to make some big climbs or plan shuttles.
2) Hiking
One of the ideal bachelor party activities for outdoor enthusiasts is hiking. There are a number of shorter hikes available, including:
Crabtree Falls
Mount Pisgah
Rainbow Falls
Linville Falls
Balsam Knob
Dupont State Forest
Bent Creek
The Appalachian Trail in Bryson City or Erwin, Tennessee, as well as the journey to and from Mount Mitchell from Black Mountain, are options for lengthier hikes.
3) Play Laser Tag
Since you were a kid, laser tag has advanced significantly. We no longer employ hefty cables and big, heavy jackets. New LaserWar taggers have taken the role of bulky jackets and have sensors and comfortable head straps.
That allows you to move about, conceal, and ambush the other groomsmen with creative strategies. The gameplay has a lot more in common with a live-action video game than it does with the games you played as a kid. Here at Black Mountain Adventure Zone, you get to play contemporary laser tag.
4) Play GellyBall
If you haven't tried it before, GellyBall is a brand-new, ground-breaking shooting game that expertly combines the best features of paintball and airsoft.
GellyBall ammunition is nearly completely comprised of water, and it is biodegradable. It won't leave any stains and is non-toxic. Because GellyBall ammunition is low-impact, it doesn't feel like paintball or airsoft; rather, it feels something like being flicked by a rubber band.
Your groomsmen will love challenging each other to GellyBall. You can play Gellyball and laser tag at Black Mountain Adventure Zone, just minutes from Asheville. Find out more here!