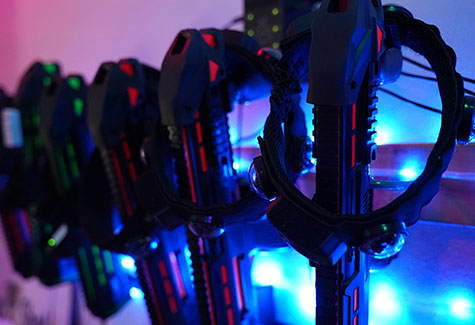 Laser tag has been around for over forty-five years. While many games and challenges have come and gone, something about laser tag has caused it to endure. However, just because it's decades-old does not mean it's stayed the same. In fact, it's evolved into something totally unlike what you would recognize as a kid. 
Consider this your laser tag update. Here's what's new with laser tag!
What's New About Laser Tag
"George Carter III, the inventor of Laser Tag, chanced upon the idea way back in 1977 after watching Star Wars Episode 4. However, his vision was not realized until 1984 when the first arena-based Laser Tag facility called Photon was set up in Dallas, Texas." 
Laser tag once involved lugging around heavy chest pieces, but in its day, it was innovative. However, if you played the game back in the 1980s and 90s, you can probably almost smell the mustiness and sweatiness of a laser tag area. But times have changed.
This Isn't Your Dad's Laser Tag
Does your dad ever talk about the glory days of laser tag and arcades? Well, to an extent, he's right about how awesome arcades were. The proof is in the fact that they're coming back. It's not just nostalgia-driven, however, because we know those games are fun. Laser tag never left, but it has become much more like a live-action video game.
Laser Tag Isn't Back – Because it Never Left
Unlike movie rental stores and skating rinks, laser tag never really left. And it has only gotten better.
How Laser Tag is Played at Black Mountain Adventure Zone
Our equipment comprises brand new LaserWar taggers and a sensor-equipped head strap. There are no bulky vests or inconvenient equipment to wear. Each player's activities are communicated to them through sound effects and vibrations.
We choose the easiest settings for younger players in order to enhance their enjoyment.
Younger players can wear our head strap sensors around their necks if their heads are too tiny for the head strap. This new system allows real-time scoring, allowing each player to keep track of their individual and team statistics! This makes laser tag feel less like a novelty and more like being in the midst of an FPS.
Laser Tag is Like an FPS Video Game
What makes this style of laser tag so fun? It's basically like the FPS video games your kids beg to get for Christmas and birthdays. Players participate in tactical games with missions and objectives that make them feel like heroes. They can challenge their friends and have fun while also being active and getting exercise. It's a win for kids and parents alike.
Where Can You Play This New and Improved Laser Tag?
Are you ready to play some new-and-improved laser tag? If you are in the Asheville or Buncombe County area, Black Mountain Adventure Zone is your destination for a laser tag-themed party. Visit our website or contact us for more information.