Asheville is a city known for the great outdoors. When people visit or move to our area, they expect to spend as much time outside as possible, likely engaging in a number of fun activities, including hiking, fishing, canoeing, whitewater rafting, camping, and mountain biking.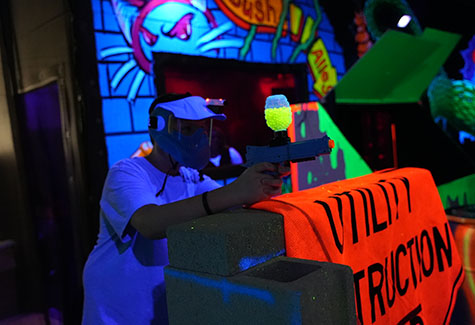 However, occasionally the weather just doesn't cooperate with your outdoor plans. You need some options for what to do inside. We have some great ideas for how to entertain yourself and the kids indoors in and around Asheville. Here are a few ideas for indoor activities in and around the French Broad River Valley and western North Carolina.
Indoor Activities Near Asheville, NC
Play GellyBall in Black Mountain: GellyBall is comparable to paintball and airsoft, however, the ball is made up of 90% water and does not damage players. It's as though you've flicked with a rubber band. GellyBall blasters are extremely accurate and simple to operate. They fire straight and true up to sixty feet.
Everyone can easily become an expert, whether they have years of shooting game experience or have never handled a paintball or airsoft gun.
Many people visit Black Mountain Adventure Zone to play laser tag, but then switch to GellyBall and refuse to leave! Firing harmless Gellyballs at one other draws your family closer together and will wear out the kids faster than you would think.
Play Laser Tag in Black Mountain: Our laser tag arena and our GellyBall arena are the same.
Laser tag games, on the other hand, are usually limited to eight players at a time in order to ensure that each person has a fun time. Our highly trained staff will run a number of games that are tailored to participants.
Modern headbands have replaced the old clunky vests. These headbands keep up with data, so your kids can check stats much like they would after they play video games.
We normally play in teams of up to four players, but if your party is larger, we'll organize additional teams and switch sessions quickly to ensure that everyone receives enough playing time. The amount of exercise this new sort of laser tag gives will astound you.
Take a Ride on a Train: The Great Smoky Mountain Railroad, which departs from gorgeous downtown Bryson City, is a train excursion that you and your children will remember for a long time.
Visit the Shark Lab and Aquarium: Did you know that our area has one of the only public inland aquariums in North Carolina? According to Visit Asheville, "The Aquarium houses 20+ displays of tropical fish, eels, stingrays, sea horses, turtles, a touch tank, a 2,000-gallon shark study tank with bamboo sharks, and more!" This is a great way to spend a few hours indoors!
Check Out a Museum: Asheville is home to a number of interesting museums, including:
The Pinball Museum
The Asheville Museum of Science
The Moogseum
The Asheville Arts Museum
And more
Laser Tag and GellyBall at Black Mountain Adventure Zone
Black Mountain Adventure Zone is home to laser tag and GellyBall. We are just twenty minutes from Asheville. You can enjoy walk-in hours on the weekends or book a private party during the week. If you are visiting Asheville or you are a long-time resident, make sure you stop by, especially if the weather is not cooperating.